Dr. Rupam Sarmah is a computer scientist, film director, singer-songwriter, author, award-winning producer, sound engineer, Guinness World Record® holder, and charted #1 on the Billboard World Music (Album: Together in Peace). Rupam's goal is to uplift consciousness in the world with creative work that delivers the message of Humanity, Peace, and Love with music as the vehicle.
Rupam created a Guinness World Record® composing and directing a Symphony, A Musical Journey for World Peace, with 315 unique musical instruments from all over the world and over 500 performers on the stage. Rupam has received thousands of technical and performance credits, written screenplay, songs in various languages, and film scores for over 25 years. The film, In Search of God (based on Majuli Island in Assam), Directed by Rupam, has received a number of international awards in music and film, including Best Documentary Feature Film at the Indian Film Festival in the USA. In Search of God – Original Music Score was listed in the Oscar® long nominations and acquired by the Oscar® library.
Rupam's 2020 narrative feature film One Little Finger (Ability in Disability) is not just a film; it has become a movement to promote inclusion and diversity. The film has received worldwide recognition for its message and continued research in the area of music therapy and neuroscience. One Little Finger was in the Oscar® race in Best Film and Best Music categories in 2019. One Little Finger has received over 30 international awards, including Best Director, Best Music, Best Screenplay, Best Actor, Telly Awards, and premiered in Cannes!
As a Filmmaker, Producer, and Director, Rupam has directed documentaries, short films, and feature films. He has worked with some of the award-winning artists and actors — Quincy Jones, Siedah Garrett, Dan Aykroyd, Moloya Goswami, Tamela D'Amico, Abhinaya, Jaya Seal, Kushol Chakravarty, Asim Bose, Pabitra Rabha, Rituparna Sengupta, Debashree Roy, Paoli Dam, and others.
Rupam has collaborated with artists around the world in various Genres — World, Jazz, New Age, Classical, Folk, Gospel, Instrumental, and others — to bring uniqueness to his compositions and creative styles. Rupam has produced, engineered, and recorded songs and music with award-winning artists such as Quincy Jones, Siedah Garrett, Kathy Sledge, Julian Lennon, Janis Ian, Kechi Okwuchi, Pandit Vishwa Mohan Bhatt, Laura Sullivan, George Kahumoku, Jr., Cindy Paulos, Wouter Kellerman, Brian Vibberts, Ricky Kej, Sumitra Guha, Kevin Mackie, Alan Roy Scott, Udit Narayan, Babul Supriyo, Sadhna Sargam, Kumar Sanu, Rupankar, Subhamita, Swagatalakshmi Dasgupta, Usha Uthup, Anweshaa, Iman Chakraborty, and many others.
Rupam and Sumitra Guha have represented India for the Festival of India concerts in France (2018) organized by the Ministry of Culture, Govt. of India, and the Embassy of India in Paris on the occasion of India's 70th Independence. The theme of the project was A Musical Journey Towards Rising India.
Rupam has worked on World Peace through Media Initiatives Projects, Together in Peace, and Action Moves People United with UNESCO Center for Peace. Rupam has received a number of awards in Music, Film, and Human Rights award for his humanitarian work last 25 years. Rupam received the "Builder of the Universe" award from UNESCO USA and UNESCO Center for Peace and has been representing as a Cross-Cultural Ambassador since 2016.
Sarmah was born in Jorhat, Assam. He learned Indian instruments and classical vocals during his time at Golaghat and Jorhat. He also continued to explore other fields, such as film, sound engineering, and music. Sarmah migrated to the United States after completing his BS in Engineering in India. He then earned his doctorate from George Washington University's School of Engineering and Applied Science with a dissertation in Artificial Intelligence. Rupam completed his Master's in Management, Master's in Computer Science, and Doctorate from US universities. In the US, he studied with Ali Akbar Khan, the Hindustani classical maestro. Rupam is a Voting member of Grammy® as a Musician, Producer, and Engineer (P&E Wing, San Francisco Chapter) since 2005.
As a Computer Engineer and top Executive, Dr. Rupam has also worked in public and private sectors for 20+ years, from successful technology startups to top media companies such as Apple managing worldwide organizations and designing systems and products. He is the founder and President of One Little Finger Global Foundation (a non-profit 501c3), helping underprivileged children and communities around the world. Dr. Rupam Sarmah has been recently selected as a White House Presidential Innovation Fellow in Washington, DC, and worked as a Chief Technology Officer (CTO) for the State of California Government under the Health and Human Services Agency's Developmental Services. Dr. Rupam will be working on Advanced Health Research as a Senior Adviser and CDO (ARPA-H) with the goal of accelerating health innovation and finding cures for cancer and other diseases.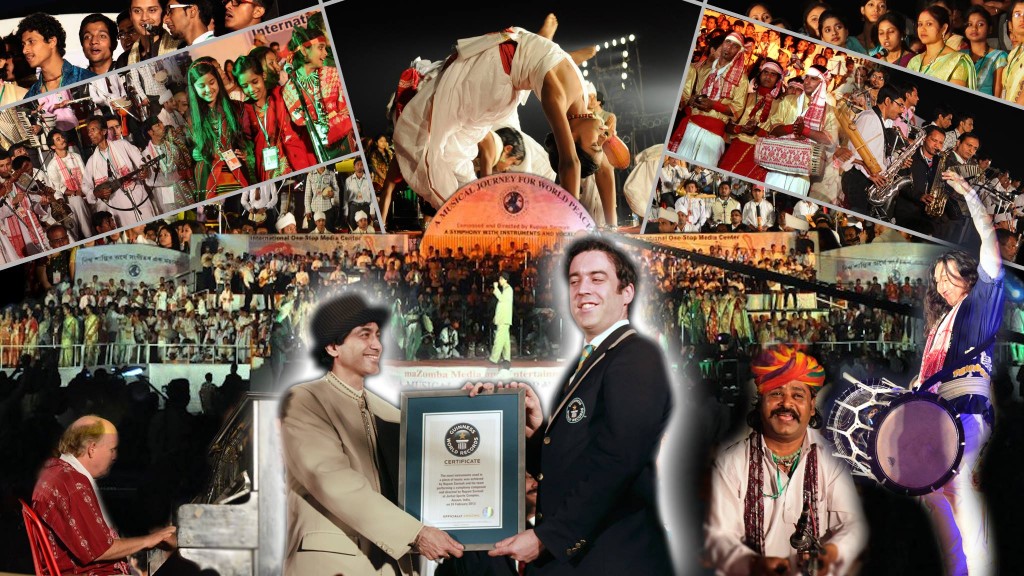 "If only we could find acceptance, compassion, and love for each other regardless of religion, race, color, or identity, the world would be a better place. We each have a choice of what we choose to focus on, and that can make a world of difference… a different world. How much we give is not a function of how much we have, but how big and open our heart is." ~ Rupam
Contact Rupam: music at rupamsarmah.net